Several Birmingham firms to team on HealthSouth HQ project
HealthSouth's new 200,000-square-foot office building in Liberty Park will begin construction in August 2016, and several Birmingham firms will be involved.
Corporate Realty Development will serve as the developer for the seven-story office building. It will be situated on five acres, and 15 more are available for possible future expansions, according to a release. The new address will be 9001 Liberty Parkway.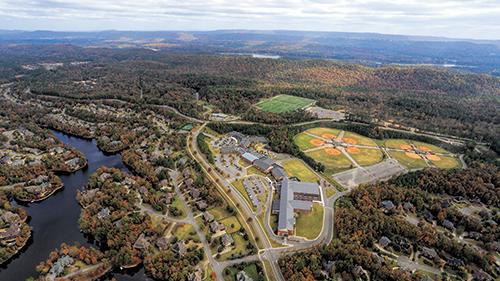 Liberty Park is the site of HealthSouth's new headquarters, which will begin construction in 2016.
"Of course we are proud to be associated with this headquarters campus and building for HealthSouth. We know what it means to the community to keep HealthSouth (NYSE: HLS) in Birmingham and for us to be associated with that means much to our team and to everyone who has been working on this," said
Robert Simon
, CEO of Corporate Realty Development, in a statement.
Brad Jones
with Cushman Wakefield and EGS Commercial Real Estate represented HealthSouth in the deal.
California-based M. Arthur Gensler & Associates will be the architect.
"This announcement that HealthSouth will continue to grow its presence in Birmingham emphasizes once again that our City is a major player in the health care industry," said Mayor
William Bell
, in a statement. "It has been a great pleasure to work with Jay Grinney and his outstanding management staff throughout the past few months and I want to renew my commitment that we will continue to be a strong partner for HealthSouth, not only during the construction of what will be a magnificent new building in our City, but for many years to come."
A release from HealthSouth stated that it plans to move into the new building in the spring of 2018.
This story has been updated to reflect Mayor William Bell's comment.
-By BBJ.com